Hyde@53M is not only the first cocktail bar in the Damansara Uptown neighbourhood, but the first cocktail bar in the city that took a chance to open on the first floor without a shop front. It was bravery that no bar owner would have risked contemplating in 2014.
When business partners Andrew Tan and Caroline Lai were offered the mezzanine floor space above their 9-month-old café The Good Batch, it seemed high time to put Andrew's 20 years' bar experience into good use.
The Good Batch, being their first F&B venture, was unchartered waters for the duo and opening a café in an area only with local eateries was a gamble. However, there was no need to worry when the café was filled with diners from the neighbourhood who didn't have to travel out of the area for good coffee and a Western menu.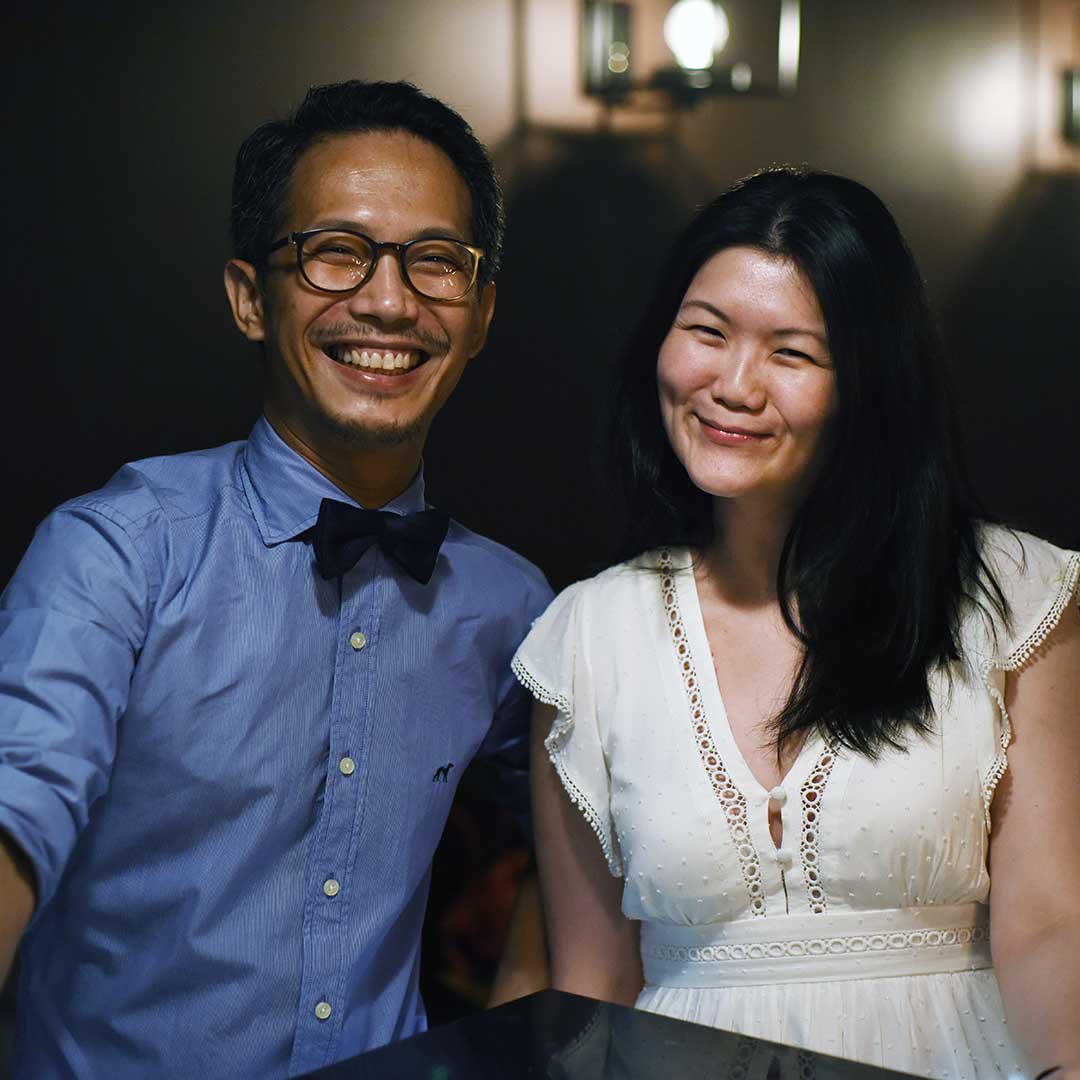 Andrew Tan and Caroline Lai, the founders of numerous cafe and bar in Damansara Uptown.
The birth of the Speakeasy bar concept in Malaysia
It was a booming time for cocktail bars in 2014. The speakeasy concept was sprouting all over the city, bringing back the romanticism of Prohibition, coupled with the appeal of illicitness.
The first speakeasy bar concept was debuted in 2013 by F&B Group BIG, who opened Tate in The Intermark mall with its door hidden in a wall. Soon after, Omakase + Appreciate opened in the basement of Ming Annexe on Jalan Ampang, subsequently winning multiple awards through the years. Though both bars are now closed, their successes have put a stamp on the definition of a "serious cocktail bar" in the mind of the consumers.
Occupying the mezzanine floor, Hyde fits right into the speakeasy concept by being hidden away from unintentional passers-by. Andrew's curated cocktails soon proved popular and garnered a loyal following right after their inception. Seven years on, Hyde is still in operation along with its sister bar 61Monarchy a few doors down in the adjacent block.
Monarchy is Andrew's pet project to fulfil a market gap in rare spirits. The spirits bar now houses over 400 varieties of rare, special and independent bottlings, mostly whisky.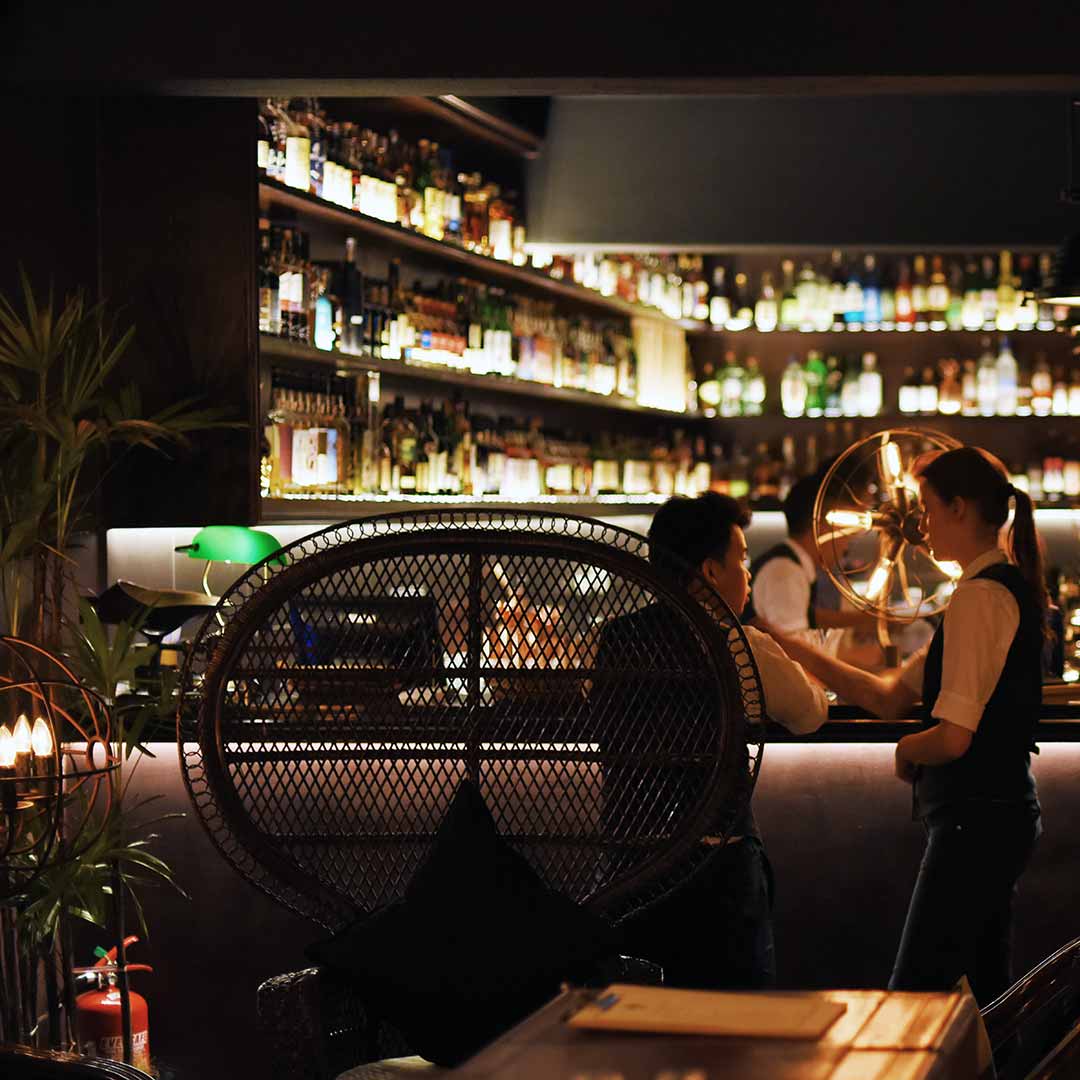 61Monarchy, the host of some unique whiskies and independant bottlings, including some collaborations between the outlet and other bars outside of Malaysia.
Sidetrack
Two years after opening Hyde, Andrew and Caroline continued to expand their business by opening Nara, a café with a healthy food menu. The concept was ahead of its time, and they stretched themselves too thin by opening another outlet outside of their original postcode. Nara eventually ceased operations in 2017. "We lost our focus and it was the biggest lesson we have learned," admitted Andrew.
From then on, they re-focused their efforts on their existing business and took over the lot that now houses Monarchy on the first floor, and subsequently converting the upstairs space into staff quarters.
Clear model
Like other bars, Hyde and Monarchy faced restrictions in operations and numerous lockdowns that affected their sales. Some bars have pivoted to include food in their menus, but Hyde and Monarchy remain cocktail and spirit only bars.
For a year and a half, the businesses relied on deliveries of bottled cocktails and spirits tasters, as well as the income from the café to stay afloat. A designer at heart, Andrew designs most of the labels for their bottled products and works with his team of bartenders to come up with ideas to create and market them. At the same time, fully utilising any resources they have, including reaching out to corporate clients for their customised bottled products.
Barrel-aged beverages have been their core. They come in the formats of classic cocktails and pure spirits aged in new or used barrels until the right maturation for bottling. To make it simple for serving at home, the concoctions are in ready-to-drink formats that require only minimal preparation like stirring or shaking with ice.
The bars also collaborate with brands for canned cocktails which can be ordered directly from them or through the brands' online portal, complemented with bottled rare spirits from Monarchy's selection which are most welcomed by regulars who miss their tasting experiences.
What's next?
Andrew and the team are working on customisation projects which introduce brands to consumers through customised experiences. It is an elevation from their existing bottled offerings injected with unique quality at competitive pricing targeted at corporate clients.
The bars will stick to what they do best. "Stay focused on your course," said Andrew, "There may be many alternatives along the way but you must keep doing what you are good at and do your best." The bar veteran who believes in nurturing young bartenders continued, "Tell the same to your bartenders that if they want to move on to the next level, show them the path and let them know that they can explore other opportunities ahead."
Hyde and Monarchy may not have won major awards but they continue to evolve and have remained open longer than others. Credit should be given for their consistently warm hospitality and drinks that never disappoint.
We can't wait to go back for a drink.
- T -