Disclaimer: Some people may find the drinks in this article offensive, readers' discretion is advised.
Hidden away behind the walls of a century old building on Jalan Tun H.S. Lee, where a wave of new businesses like hotels and restaurants are taking over the previous High Street of the city, is one of the most talked about cafés with a pool, Kafe Kleptokrat. This establishment has preserved the building's wooden structure and iron framework by repainting and upcycling, but retaining the rustic and historical imprint of the old architecture.
Sharing the café's space upstairs, and with its entrance through a closet door, is Potions Bar.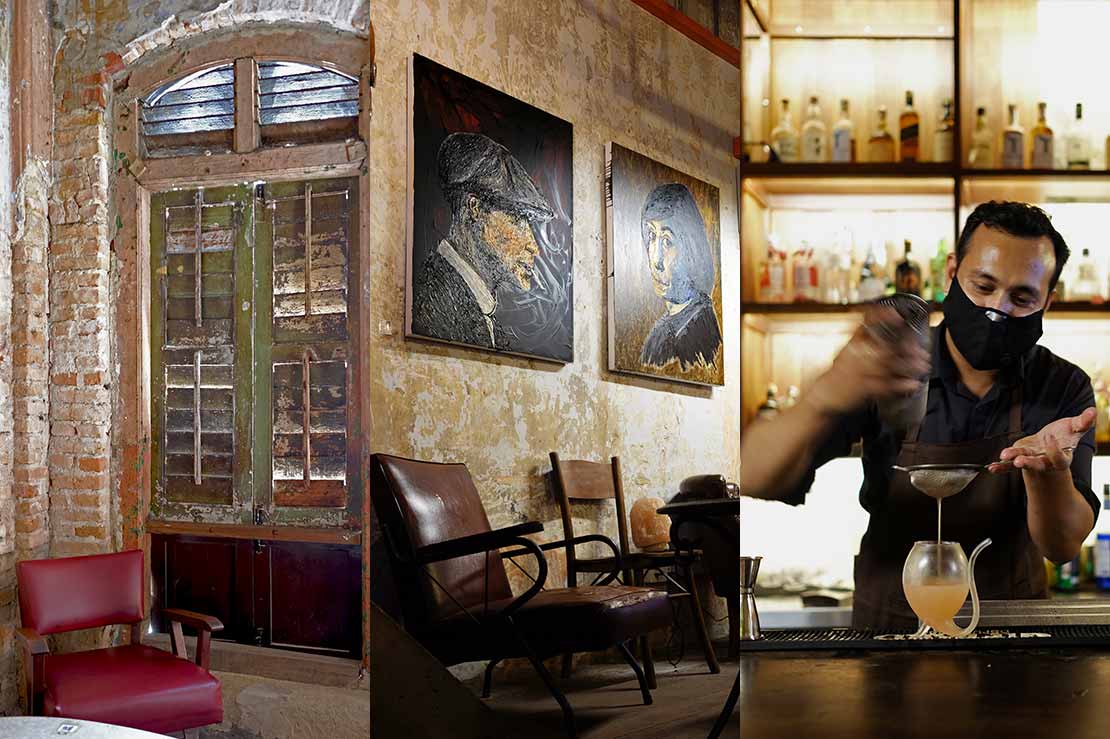 Potions is the brainchild of the same creator behind The Deceased, the cocktail bar that daringly accentuates the Chinese's morbid relationship with the dead. The latter is the reflection of a sinister world that is glorified by our imagination but feared of in reality. Potions' cocktails on the other hand, emulate the antidotes we think would help us escape from our problems.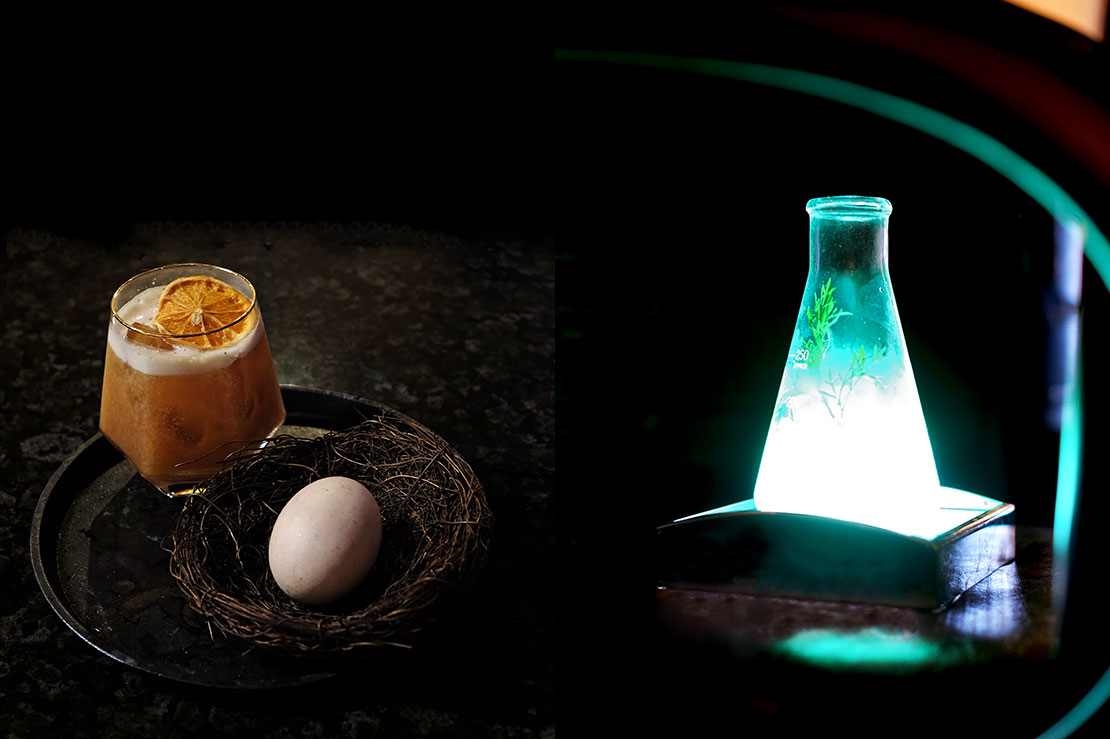 From left: Allow Me To Die, Liquid Marijuana
Liquid Marijuana - Dill infused gin, white rum, melon liqueur, maraschino liqueur and lime juice (RM45)
ART - Gin, Dom Benedict, ginger flower, dry vermouth, lemon, lychee syrup (RM45)
Cocaine - Rum, coca leaf liqueur, lime juice, kumquat syrup and celery bitter (RM45)
Allow Me to Die - Whisky, longan syrup, lemon juice and egg white (RM45)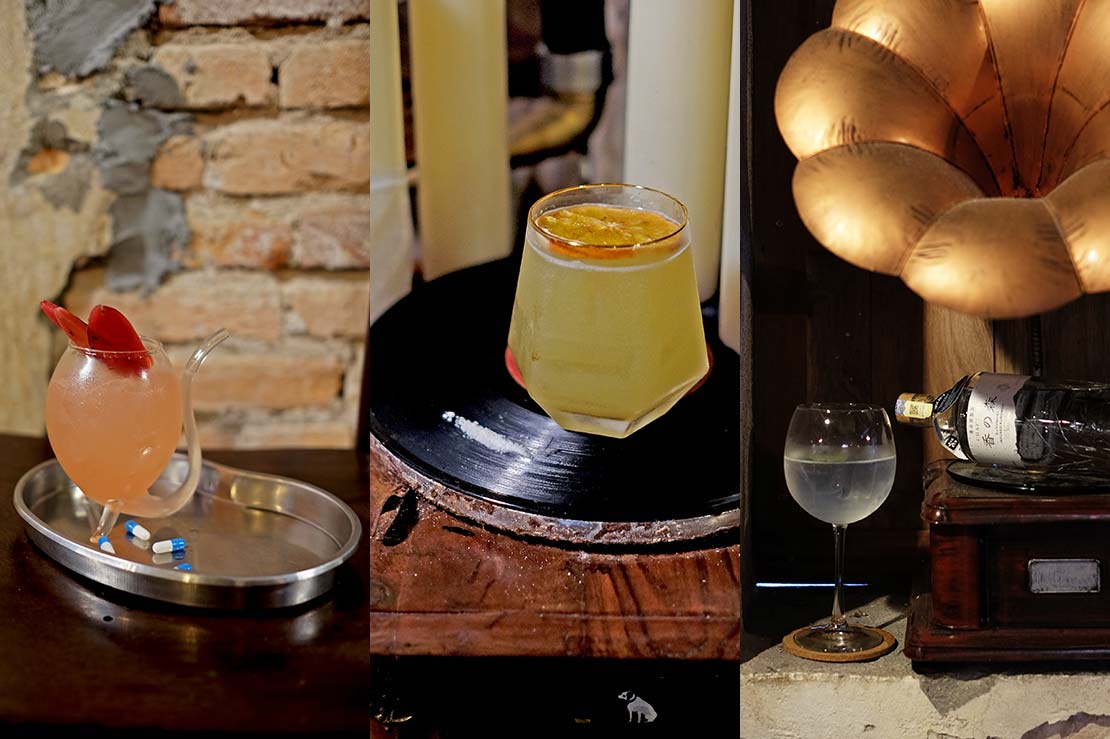 From left: ART, Cocaine, G&T
"Coming out" from the closet, the interior of the bar is made up of untreated red bricks, giving a raw look of a makeshift hideout. The wooden bar counter with matching bar chairs is the best spot to watch the bartenders in action. Two paintings of Peaky Blinders characters hang on the wall above seemingly arbitrarily gathered chairs creating a space for group chats. Several vinyl record players around the bar make some photogenic spots for their drinks.
Other than the house curated cocktail menu, there are options for classics, G&T with 20 over gin selections, wines, shots and whopping 8% homebrew for the choosing.
Just don't expect anything conventional.
- T -
Address:
24A Jalan Tun H S Lee, City Centre, 50100 Kuala Lumpur, Malaysia.
Telephone No:
+60182000262
Website:
https://www.instagram.com/potionskl/
Operation Time:
Tue-Sun: 4pm-12am