It was a friendship that began in an unexpected place between the former CNBC Asia news anchor (plus founder of O Gourmet, Hikayat, and author of Over Penang) Bettina Chua Abdullah and Penangite Fay Khoo. The two women were crew on different boats during one of the Raja Muda International Regattas – a nine-day sailing race held between the islands of Penang and Langkawi – more than 20 years ago.
"On the Penang leg of the regatta, she introduced me to her culinary home," Chua Abdullah recalls. "I'd never met anyone so passionate about food and eating, and so generous with her knowledge and her joy at being able share great meals with friends." Khoo's life revolved around food, and she would eventually come to cement herself as the leading force in Malaysian food writing, regularly contributing to The Star newspaper, publishing Grow, Cook, & Eat and Best Eats: A Finger Licking Good Journey Through the Tummy of KL, and also her weekly radio show Feeding Time on BFM.
Tragedy struck in 2017 when Khoo unexpectedly passed after a short battle with lung cancer, and her loss rippled through publishing and F&B circles across the country. "Fay's passing was so sudden. At that point, in April 2017, I honestly couldn't imagine a world without her," she says. As the industry reeled, Chua Abdullah put plans in motion to honour Khoo's memory through the things she loved the most: food and writing.
"I just...started. Did what had to be done to make it happen," she says. She sought out assistance from a mutual friend Martin Axe, who offered financial support; Bernice Chauly, then director of the George Town Literary Festival (GTLF), who put the award presentation on the programme, as well as helping with calling for submissions and finding judges; John Brunton, a food, wine, and beer contributor to The Guardian, to come on board as chief judge and to help with the judging process; Lisette Scheers, founder of nala designs, to design the logo and the iconic tiffin trophy; and Ben Yong of BIG Group to offer dining experiences as winners' prizes.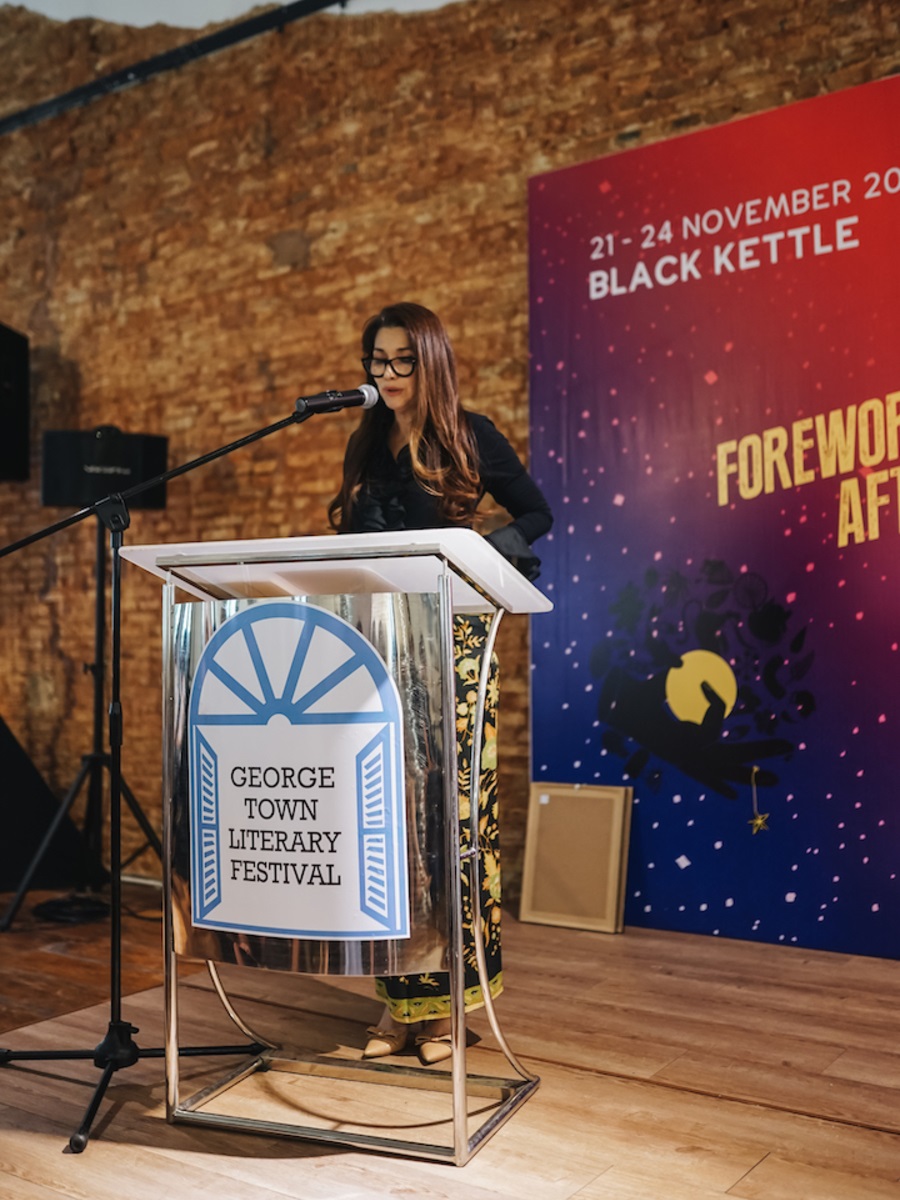 Bettina Chua Abdullah announcing the winners of the Fay Khoo Award for Food+Drink Wrinting 2019
Thus, the Fay Khoo Award for Food+Drink Writing was born later that same year – an annual competition calling for stories from across Southeast Asia, about food, and the artistry, emotions, and memories entwined with it. Chua Abdullah is the Founder and Director, responsible for creating the programming for the Award, as well as supporting the Award with fundraisers outside of the competition (including a food photography workshop in KL and Penang, and the possibility of a writing workshop to come later this year). "In the main we need to build greater awareness of award, its opportunities and to always keep working to raise standards of food writing," she says, adding "It would be nice to have more financial support, and to offer big prizes and publication opportunities."
In the three years since its inception, over 150 submissions have come in from across the region (and beyond) – in 2019 alone there were applications from Malaysia, Singapore, the Philippines, Britain, and even as far away as Guatemala.
But up until 2019, only five of these stories had been published on the Award's former website. "There were many more wonderful narratives that deserved readers," she explains, which led to the latest project: Telltale Food: Writings from the Fay Khoo Award 2017–2019 – a robust anthology of 30 shortlisted stories from up-and-coming food writers, published by Hikayat in November 2019, demonstrating that the love of food (and writing and reading about it, too) is certainly in no short supply. "What Telltale Food does is give the Award a presence on the shelves of bookshops, and hopefully encourage more writers to explore this vast world of food writing."

The writers featured in Telltale Food. Chua Abdulla second from right.
She adds, "The third year proved a turning point: with the publication of Telltale Food, the Fay Khoo Award has a wider presence than before. But perhaps the most amazing is how supportive all the writers are. We featured the work of 29 writers in Telltale Food. Seventeen came for the launch at GTLF last November!"
As the Fay Khoo Award gears up to embark on its fourth year, the momentum seems to be as strong as ever. In 2019 the Award opened up a category for comics and graphic stories, to add more flavour (pun intended) and also to challenge the story-telling format ("I'd like to see more graphic illustration with food stories as the main theme," Chua Abdullah admits); while there are plans for the anthology to be translated into different languages at some point in the future. Having said that, the Award will not veer far from its original aim: "[it] will always be about enabling and fostering excellence in food writing for Southeast Asian voices."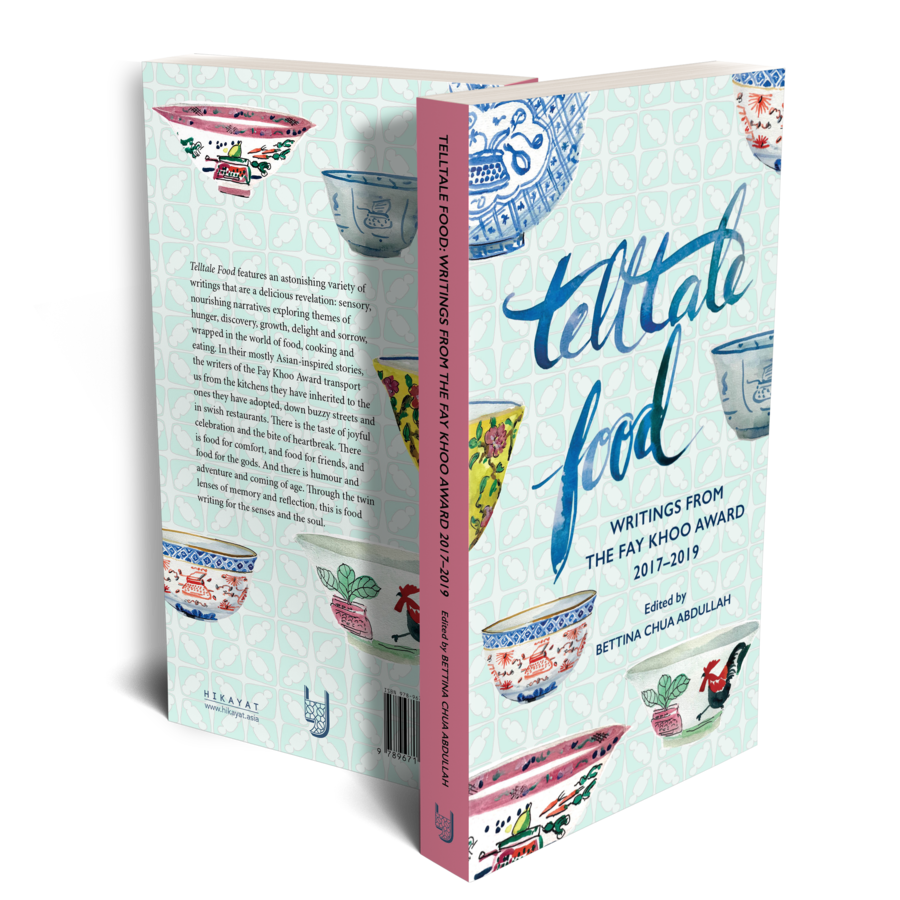 ---
Telltale Food: Writings from the Fay Khoo Award 2017-2019 is available at Kinokuniya Suria KLCC in KL and Gerakbudaya Bookshop in Penang at RM55, and Littered With Books in Singapore.
- T -