It was the second day of the Better Beer Festival held in White Box, Publika. Taps were flowing with craft beers from all around the world and there this was, the one to recommend for anyone who asked,
"What would you order for the first beer?"
"The Long White Cloud."
"Why?"
"Have you seen the queue?"
Tempest Brewing Co.'s flagship pale ale was the best start for the beer festival. It is one of the styles in the brewery's core range – light, floral with tropical fruits and refreshing. We trusted Taps Beer Bar, the host of the 5 year-running craft beer festival to have put in great effort in handling the delivery and storage to serving of the beer. The Long White Cloud was as fresh as if you'd had it right at the brewery.
The brewery was founded in 2010 by Gavin Meiklejohn who had trained to be a chef in New Zealand and ran a garage brewery there out of passion to brew beer. He returned to Scotland and opened the brewery that is now located at Tweedbank, Scotland. In May 2016, Tempest was awarded Scottish Brewery of the Year at the BII Scotland Awards.
Graeme Martin, the Special Ops and Events Manager had come to Kuala Lumpur for the first time to help out at the booth. He joined Tempest almost since the brewery started in 2011. During our conversation, he shared with us how he got into craft beer and the brewing process at Tempest.
Graeme Martin
Graeme always had an interest in beer and had started home brewing 3 to 4 years before joining Tempest. Though not very successful, he learned a lot during the process. In 2010, Graeme was working in the bar industry in Scotland when he first tried beer from Tempest, just as the brewery was starting out. He also knew Gavin and Allan Rice, the Business Manager for Tempest. One day, Graeme received a phone call saying that the apprentice from Tempest was leaving and there would be an opening for the job if he was up for it.

When you started at Tempest, what did you have to do?
I started out cleaning. I was effectively the brewery cleaner. I learned that the biggest and most important part about brewing is cleaning. So we learned to clean the entire brewery, keep everything perfectly sanitary and then from there began learning to brew beer.
When did you get a chance to first brew your own beer?
To be honest, I'm not sure I ever got my own beer through Tempest. It is always a collaborative effort with Tempest, which is really nice because everybody who works there has a say on everything we do. So it's rare where any one of our beers is completely one person (it doesn't happen!). It's usually a lot of effort from everybody involved, at least 2 or 3 people will always have input on beers, so I'm learning from different perspectives.
What is the first thing you have to do when brewing?
The first thing in brewing really is getting your water ready because that is most important. Then there is the malt that has to be all crushed and ready to go as well. We crush all the malt ourselves, which is unusual for a small brewery because usually they are bought pre-crushed and pre-ground. We would be doing this in the morning, grinding all our grain and then prepare the water for the brew for the day. And the last thing before we start, we get sufficient amount of yeast ready.
Scotland is famous for single malt whisky and where Tempest Brewing Co is from. When you tell people about craft beer from Scotland, what are people's usual reaction?
Yes, many people associate Scotland more with whisky than beer. But then, Edinburgh is a famous brewing city, the brewing history of Edinburgh goes back hundreds of years and until about 50 years ago, it was still one of the brewing capitals in the world. It also depends which part of the world you talk to about beer. To the English, Scotland has always had a bad reputation for beer. They don't like our beer because no hops grow in Scotland. Scottish beer was traditionally very malty and very sweet so it's not necessarily to everybody's taste and definitely not to the English. But I think there are people who appreciate stronger, big and dark malty beers and we can see that in the global market of craft beer drinkers.
If you don't grow hops in Scotland, where do you source them from?
Primarily from the US and New Zealand. We do use some European hops as well, occasionally some English hops.
So how would you describe Tempest beer to people who haven't tried it before?
I would say there's one for everybody. We are a progressive brewery and try to make as many different styles as possible. What I can say though is we don't pasteurize anything and use the freshest and highest quality ingredients in our beer. To have to describe any individual beer, it depends on which one you choose, they're all very different!
Do you age beers in Tempest?
We do age some beers but not a lot because we just don't have the space for them. Barrel aging beer takes up an awful lot of space because you need to store the barrels for a long time. But that's something we're interested in, we just need more space to do more.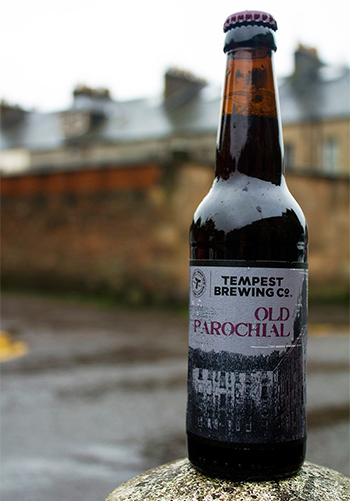 (Old Parochial which our sub-editor really enjoys - a 10% ABV whisky and bourbon barrel aged Imperial Scotch Ale.)
Tempest is barely 6 years old and you are already exporting all the way to Asia. Is the business mainly focusing on overseas markets?
In actual fact, we are focusing on anywhere that wants our beer. Because we focus so much on using fresh products, we don't want a warehouse full of beer. As soon as the beer is ready, we send it to whoever wants it and if they can look after it, sell it fresh, that's what's most important to us.
Do you also make limited edition beer?
Absolutely! Other than our 7 core range beers which are primarily available all the time, we're always experimenting with new beer. So I think this year we've had about 6 different specials and we'll continue to do that.
We found Longer White Cloud and got excited but the only limited edition beer available at Taps Beer Bar now is the Mexicake, Drop Kick Me Jesus and Passionfruit Berliner.