The four-course carnivorous pairing dinner at Cielo was a sell-out within 24 hours. It's not unusual for the restaurant to sell out any dinner, the difference was this involved a pairing with a vertical tasting of Bruichladdich's Octomore .3 series guided by Brand Ambassador Chloe Wood and an unconventional menu put together by Chef Werner Kuhn.
Bruichladdich has built a cult following for their heavily peated whiskies, and prides itself for sourcing both their barley and entire workforce locally. The French-owned Scotch brand produce their whiskies traditionally and age them entirely on Islay itself, an island with a population of 3,000 people. The volume of production is based on the Scottish (and Islay) barley harvest available each year.
What's Octomore?
Octomore, named for the Octomore Farm on Islay and where Brucihladdich source their Islay barley from, is the highest PPM single malt created with Scottish mainland peat being used. The malt for Octomore used to be blended with the unpeated Bruichladdich to create Port Charlotte. What makes Octomore unique is that with such a high PPM in the barley used, it was thought to be impossible for making spirits. Bruichladdich combines this feature, distilled to a high ABV and bottled at relatively young ages to prove that a conventionally impossible whisky can turn out to be exceptionally well balanced (and loved).
The .3 series tasting
The ".3" in the Octomore numbering series indicates that it is specifically distilled from 100% Islay barley, whereas the rest of the series are from Scottish barley from other regions. What makes Octomore fans go bonkers with a parallel tasting of the .3 series is that these are limited to the barley yield from the annual harvest on Islay. These bottles, and in fact any in the Octomore series, fly off the shelves as soon as they are released. Local distributor Single Malt Sdn Bhd had only one bottle each to pour at the dinner, which meant no refills for guests.
Drams at the pairing
The tasting comprised of a cross generation of Octomore 07.3, 08.3, 09.3, and 10 YO 3rd edition. The concept of variants within the series started with the last master distiller Jim McEwan (2001 - 2015) until 07 edition. Adam Hannett, who succeeded McEwan in 2015, continues the legacy of the Octomore series starting with the 08 edition.
---
What do the variant numbers mean?
.1 Global market, American oak (ex-bourbon and Tennessee whiskey casks)
.2 Travel retail exclusive, European oak casks
.3 Domestic market, 100% Islay barley, any cask type
.4 Domestic market, mixed casks, most limited of the four at only 2,000 bottles
---
"Octomore is not about the numbers on the bottle, it's about the taste that this is able to produce. Octomore is not a gimmick, it's about showcasing the effects that production has on each release and how with the high PPM, high ABV and low age statement it shouldn't work but yet it works beautifully, a testament to the skill of the distillery team." - Chloe Wood.
---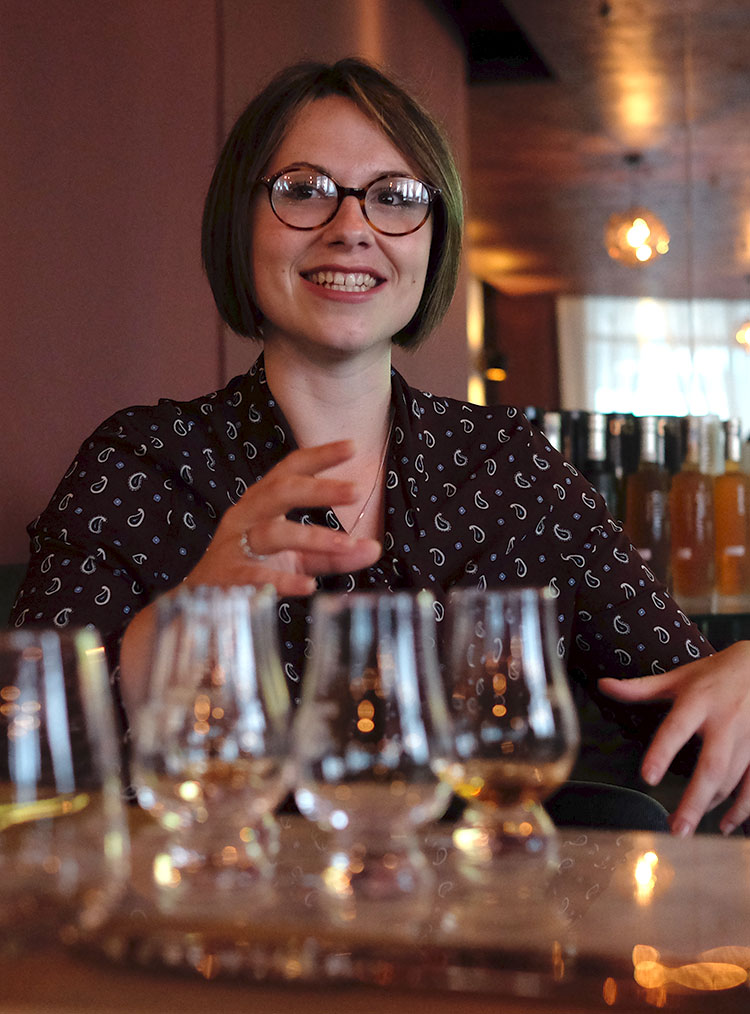 Bruichladdich brand ambassador Chloe Wood
Ascending tasting
Diners who secured their tickets got to taste the last of the very few 07.3 release. At 63% ABV and 169PPM (parts per million, 40PPM onwards is considered peaty), this spent a total of 4 1/2 years in American oak and Ribera del Duero Spanish red wine casks (6 months), resulting in a creamy caramel rich liquid with sweetness of honey.
The 08.3 has a record hit of peatiness at 309PPM but the 61.2% ABV helps to balance the massive peat character. Matured in American and a selection of French wine casks, this is an intense peat dram that has chocolate and dried fruit notes.
Then came the 09.3 at 133PPM and 62.9% ABV that's also matured in American and European (French wine) casks. A limited release due to a small barley harvest with a production of only 18,000 bottles, emphasising strongly on the flavour of Islay barley and delicate sweetness.
The only one of the night that is not from 100% Islay barley, the 10YO is matured in a combination of Port, Cognac, ex-American whiskey and virgin oak casks. At 61.9% ABV and 167PPM, the 10 year maturation, which is twice as long as the Octomores, has calmed the peat smoke giving out flavours of baked bread, nuttiness and an undertone of lemon and salt.
---
The food
The dinner included dishes prepared in traditional but unconventional ways, matching the Bruichladdich Octomore ethos. It was a rare treat as the Chef Kuhn hardly gets down to preparing the food himself these days as he now focuses on guiding the team of 6 restaurants.
Menu - "Peat and Meat" by Chef Werner Khun
Octomore 9.3
Wu Yi Rou Gui enhanced free range spring duck on crudité with rhubarb aspic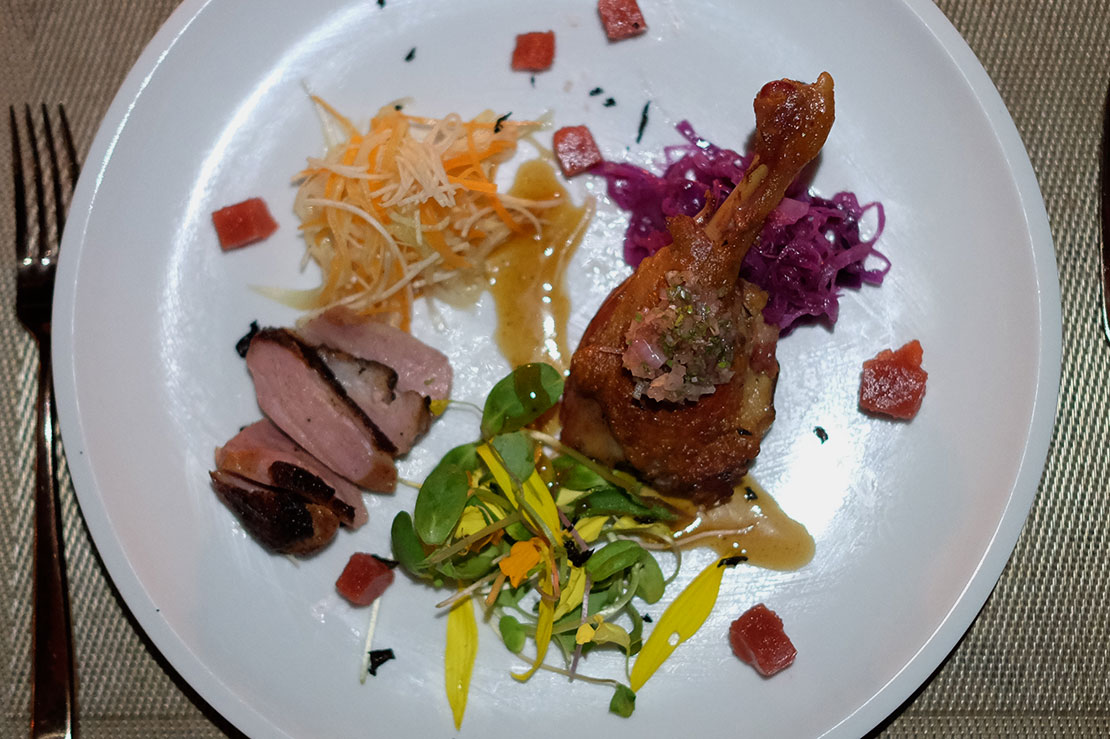 Octomore 7.3
Barley and sugarcane smoked Angus Sirloin with apple-sweet potato mousseline, saffron-bone marrow butter and espresso glaze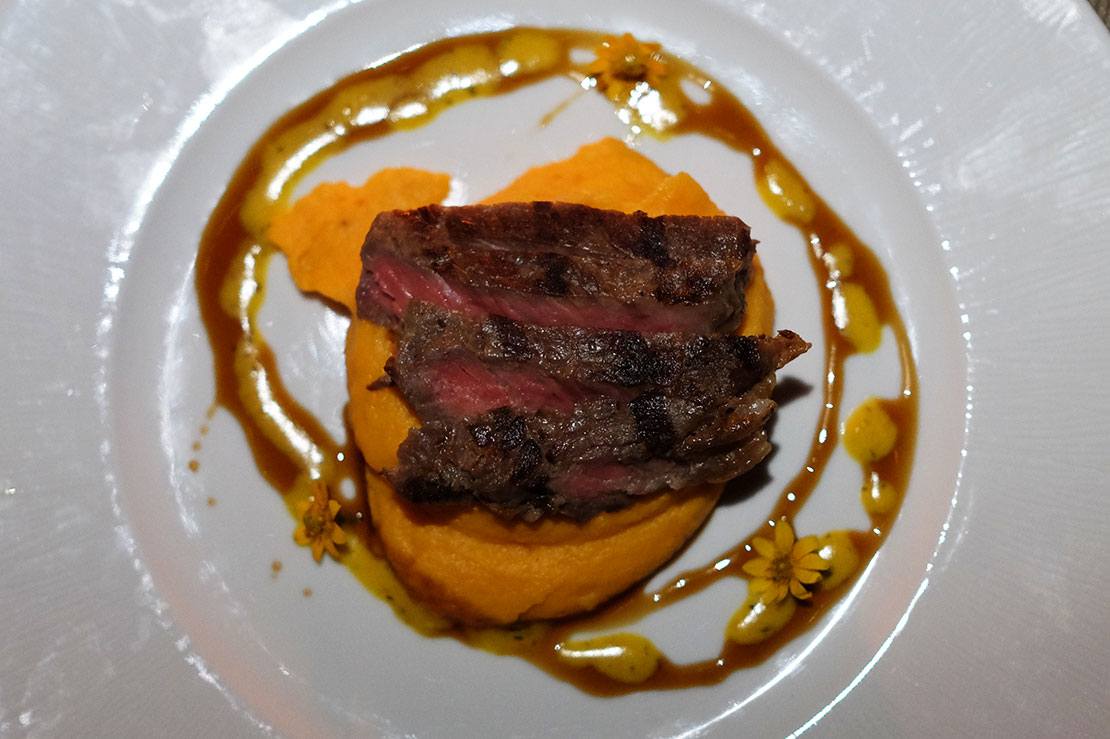 Octomore 10 YO 3rd edition
Classic Irish stew of three lamb cuts with a touch of mint and parsley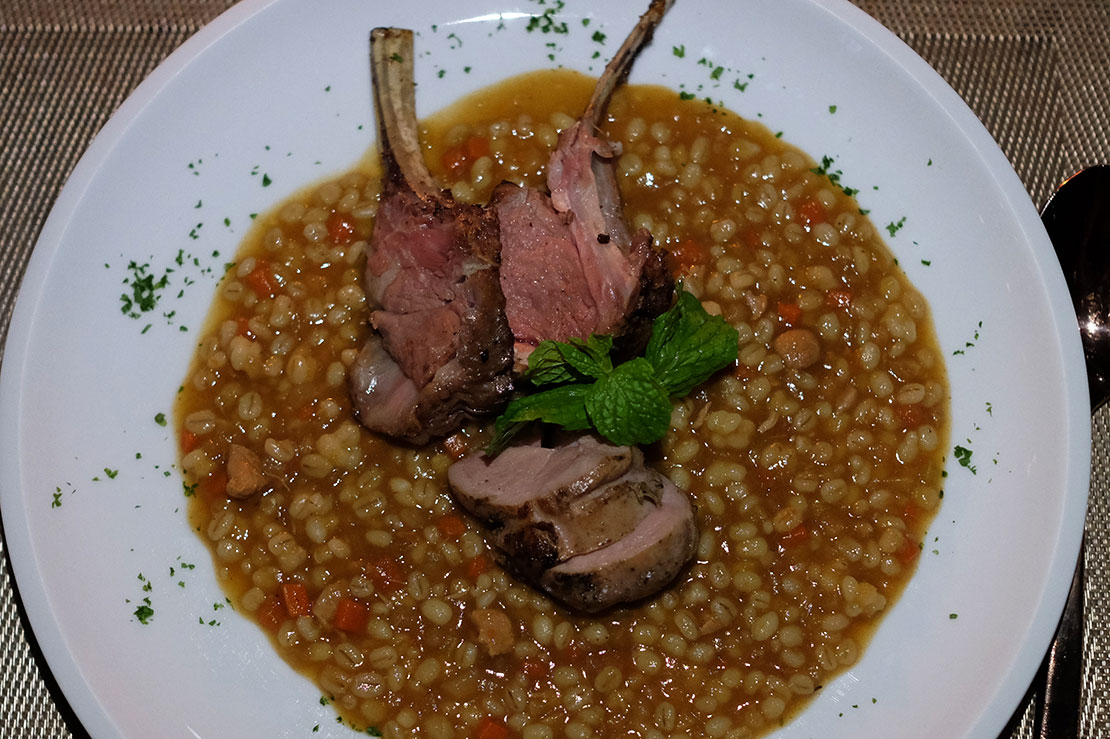 Octomore 8.3
Dark chocolate pralinosa with pistachio ice cream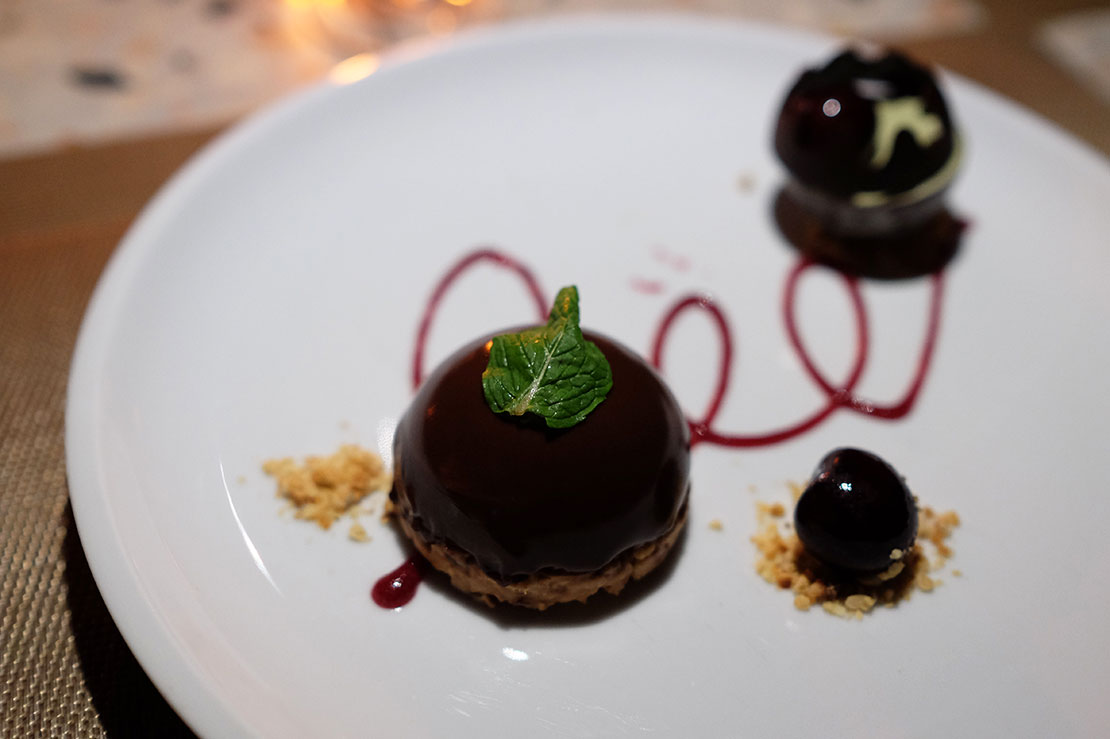 ---
"(Octomore) was a late night distillation and it worked the first time! We weren't sure if it was going to work again or it was just an accident. So we kept going and every time we distil Octomore, we learn something new. Because no one's done it, or are doing it either, we can't ask anyone else how it's gone." - Chloe Wood
---
- T -