There have been myths and mistakes about the Jungle Bird cocktail that I feel that it is my responsibility to rectify them. Having done extensive research on the history and creation of this classic cocktail, and spoken to the people who were there when this cocktail was created and served, I can ascertain that this is currently the most accurate account of the Jungle Bird cocktail.
To read the three-part story of "Finding the creator of Jungle Bird":
Date of Creation
Jungle Bird was originally served as a welcome drink at the KL Hilton Hotel on Jalan Sultan Ismail since its opening on 6th July 1973. The exact creation date is unclear.
Creator
Jungle Bird was created by Penangite Jeffrey Ong See Teik (born 10th August 1948). He passed away on 26th February 2019 aged 70.
Name
The name of the cocktail referred to the birds kept in a netted area near the hotel's swimming pool which could be seen through a glass panel from the Aviary Bar.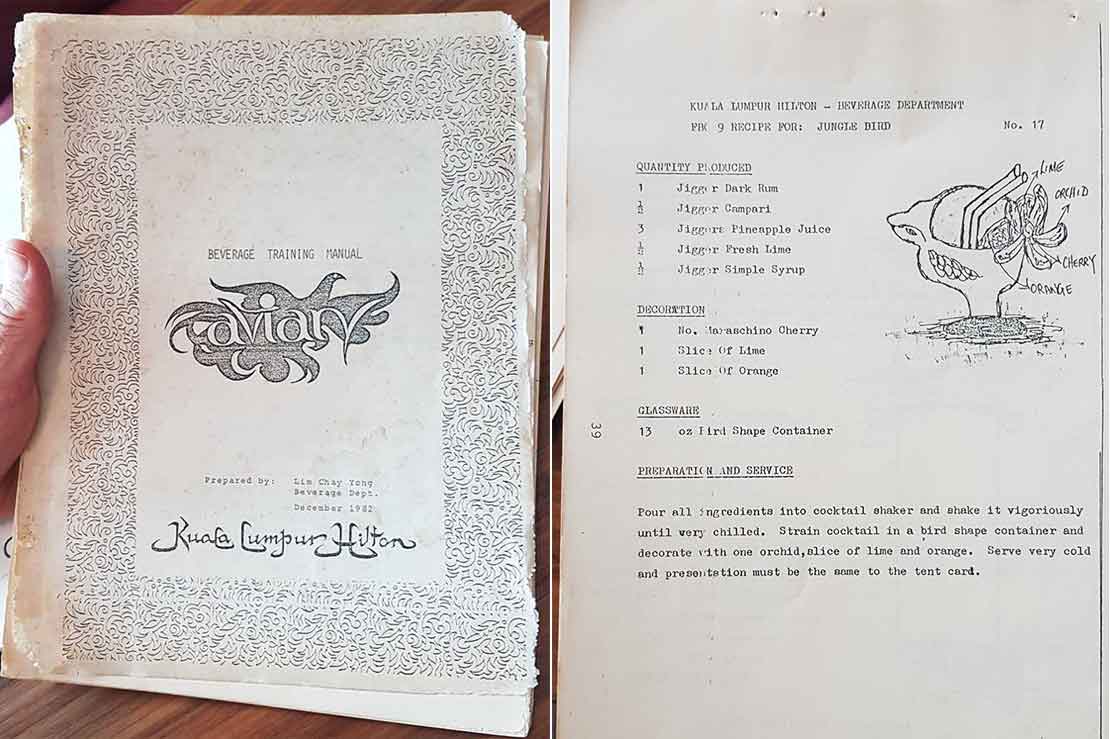 The Beverage Training Manual of old KL Hilton dated 1982
Jungle Bird Original Recipe
The page extracted from the KL Hilton Beverage Manual dated December 1982 states:
Recipe
1 Jigger Dark Rum
1 Jigger Campari
3 Jiggers Pineapple Juice
½ Jigger Lime Juice
½ Jigger Simple Syrup
Decoration
1 No. Maraschino Cherry
1 Slice of Lime
1 Slice of Orange
1 Orchid
Glassware
Served in a 13oz Bird Shaped Container
Preparation and service
Pour all ingredients into cocktail shaker and shake vigorously until very cold. Strain cocktail into a bird shape container and decorate with one orchid, slice of lime and orange. Serve very cold and presentation must be the same to the tent card.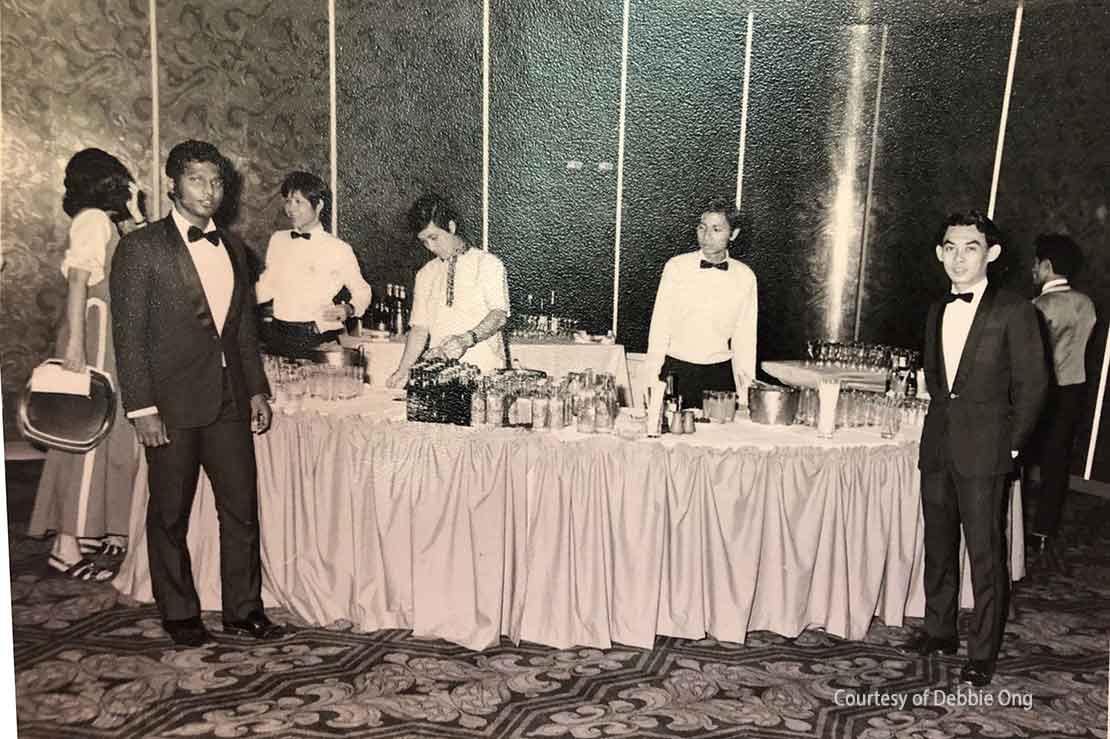 Jeffrey Ong Swee Teik (Right) in a photo taken on 23 December 1972, courtesy of Debbie Ong
Jeffrey Ong also created the Asmara, a low ABV recipe, when he worked for Rasa Sayang Hotel in Penang:
Asmara
Recipe
120ml pineapple juice
60ml mango juice
15ml grenadine
15ml lime juice
15ml simple syrup
Dash of bitters
Preparations
1) Add all ingredients except the bitters into a shaker.
2) Add ice and shake till it is chilled.
3) Pour into a porcelain glass then add dash of bitters.
4) Garnish with a cherry and pineapple skewer.
You can email me at editor@thirstmag.com for any questions or to submit your Jungle Bird recipe. You can also visit Thirstmag.com (Facebook & Instagram: @Thirstmag).