A new piece of article has been published about the TRUE CREATOR of the Jungle Bird cocktail based on updated information. You can read it here.
Part 2 of the story
Part 3 of the story
According to the first traceable Jungle Bird cocktail recipe in "The New American Bartender's Guide" by John J. Poister in 1989, it was created in 1978 in the former KL Hilton's Aviary Bar on Jalan Sultan Ismail.
The original recipe consists of generic dark rum, Campari, pineapple juice, lime and simple syrup. Jeff Berry, in his 2002 book "Intoxica", recorded the recipe with Jamaican rum, making it more specific. Then in 2010, blackstrap rum was used by renowned bartender Giuseppe Gonzalez, further attracting international attention to Jungle Bird.

[Main photo]
Jungle Bird by Giri Pancha
Hilton KL (Following the original recipe)

45ml blackstrap rum
20ml Campari
15ml fresh lime juice
15ml simple syrup
45ml pineapple juice

Method:
- Shake all ingredients and strain into a rock glass over crushed ice.
- Garnish with a pineapple shoot.
Today, the cocktail is making a comeback to the bars in KL. You can try it in the current Hilton KL, Omakase + Appreciate, Ril's at Bangsar, PS150, Marini's on 57, IKKI and more. It's a drink that every Malaysian cocktail bartender knows. But there are a few things that bother us – Who created the cocktail? Why was it not recorded in the Poister's book? Was he local? What inspired him to create it? So many questions.
We approached the current Hilton KL but that lead came to a dead end. So we went on a man hunt on our own. That's when we found Raj, who had worked in KL Hilton for almost 30 years until the end when the name was changed to Crowne Plaza Mutiara Kuala Lumpur in 2004, and later demolished in 2013. Raj is among many ex-staff from the old KL Hilton who missed the place and joined an online group to share the past glory of the hotel. He was recommended by the site moderator for his strong memory of the place for being one of longest serving staff.
We got on the phone with Raj.
"During the old days, there were high expectations of bartenders working in hotels," said Raj. The discipline, manners and ready to serve attitude were a must due to the high profile clientele at the hotel. KL Hilton was the first five star hotel in Kuala Lumpur opened in 1972, hence employees for the hotel were regarded highly. Raj recalled when there were police road blocks, he only had to show his work ID and he would be immediately waved off. That's the extent of how much respect the police had for the hotel.
According to Raj, the Jungle Bird cocktail has been on the menu since 1975 (as opposed to Poister's record) and was served as a welcome drink. Guests arriving at the lobby would be welcomed in The Aviary Bar, where they would be served the cocktail in a bird shaped ceramic glass with a pineapple garnish. Correction: The Jungle Bird cocktail was served as a welcome drink since the opening of the hotel in 6th July 1973 instead of 1975 as stated earlier.
The menu, including the Jungle Bird recipe, was created by Reinhard Steffen, the F&B Director at that time. Other than Jungle Bird, there were also other signature rum-based cocktails such as Rasa Sayang and Planters' Inn Punch created for other restaurants in the hotel. Correction: It is later found out that the true creator of the recipe is Jeffrey Ong, the Beverage Manager who was tasked to create a welcome drink for the hotel.
Like the other cocktails created according to the individual outlet theme, Jungle Bird refers to the birds that you could see from inside The Aviary Bar. Guests facing the stage would see the birds through a glass panel where they were kept in a netting area near the swimming pool.
It took us some time to find out about Steffen, a German who later became the co-founder of Swiss-Garden International Hotel. We have sent out emails in our attempt to connect with him but haven't heard back so far. We may never hear from him but a benchmark for quality cocktails has been set. Now we seek another world-known cocktail from Malaysia, this time, by Malaysians.
During our search for the legendary tipple, we can't help to drink a few of them and found some twisted versions too.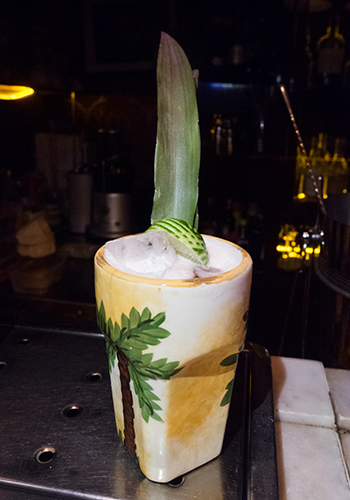 The Aviary by Zachary Luther
Ril's Bangsar – (Adding a twist using tequila)

30ml Pink peppercorn infused Cimarrón Tequila
15ml Plantation Original Dark
45ml pineapple juice
15ml Rinomato
15ml Agave syrup
10ml fresh lime juice
4 drops saline solution

Method:
- Shake all ingredients and strain into a tiki glass over crushed ice.
- Garnish with a lime and pandan leaf (screw pine).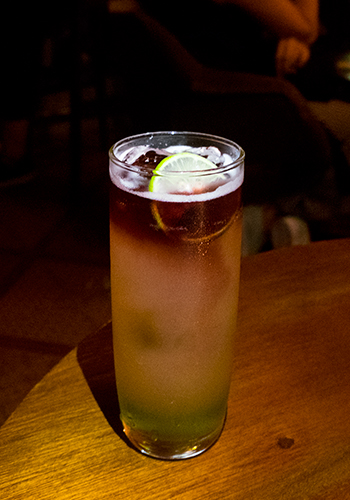 Jungle Peacock by Shawn Chong
Sparrow – (Adding more alcohol)

45ml White Rum
15ml Red Wine
10ml Midori
10ml Malibu
10ml Campari
45ml Pineapple juice
15ml Lime juice
10ml Sugar
Method:
- Pour midori and malibu into glass.
- Shake the rest of ingredients except wine.
- Carefully pour into highball over ice to form first layer.
- Float red wine to form top layer.
- Garnish with lime wheel.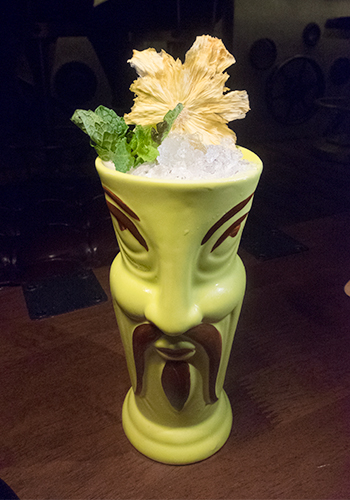 Twisted Asian Bird by Kelvin Lee
Crime – (Asian touch)

45ml Loh Hon Gor infused rum
15ml Campari
30ml Gekkeikan Traditional Sake
20ml Fresh lime juice
2 slices Smoked pineapple
15ml Homemade winter melon syrup
1) Preparation of infused rum
Infuse for 24 hours
- 2 nos Lor Hon Gor
- 700ml rum
2) Preparation of winter melon syrup
- 1kg Winter melon sugar sticks
- 500ml Water
Method:
- Torch the pineapple slices until smokey.
- Put the smoked pineapple in a shaker tin, add lime and winter melon syrup and muddle.
- Put in the rest of the ingredients and shake vigorously.
- Double strain into glass with crushed ice.
- Garnish with a slice of dried pineapple and mint leaves.