In case you didn't already know, the ongoing International Women's Day Drinks.Eats. (IWDDE) 2023 is set to celebrate women who have contributed to the development of this nation, and of course, many other things in between!
In view of this, participating outlets in the country are now running their own IWDDE cocktails extravaganza, created in honour of these women – by choosing any woman, (preferably a Malaysian past or present), who they think have contributed to the development of the nation, and craft a cocktail in their honour.
But regardless of what you hear at happy hour these days, the bar industry traditionally has a notoriously high annual employee turnover rate. And this is particularly true for women in front-of-house roles, especially bartenders and servers. They make up a large portion of those leaving such outlets in search of opportunities that offer safer, more supportive workplace culture, reliable wages, skills training and career advancement.
And you know what? If you ask female bartenders about the biggest challenges they face in the workplace, you'll typically hear the following themes revealed to you at lightning speed: an underestimation of their skills, and sometimes, even unwanted sexual advances!
So, this time around, on the occasion of International Women's Day and in celebration of the International Women's Day Drinks.Eats. 2023, we decided to go after the stories reflecting a more constructive effort towards creating a positive environment for both female employees of such establishments and also its women customers.
Equal Opportunities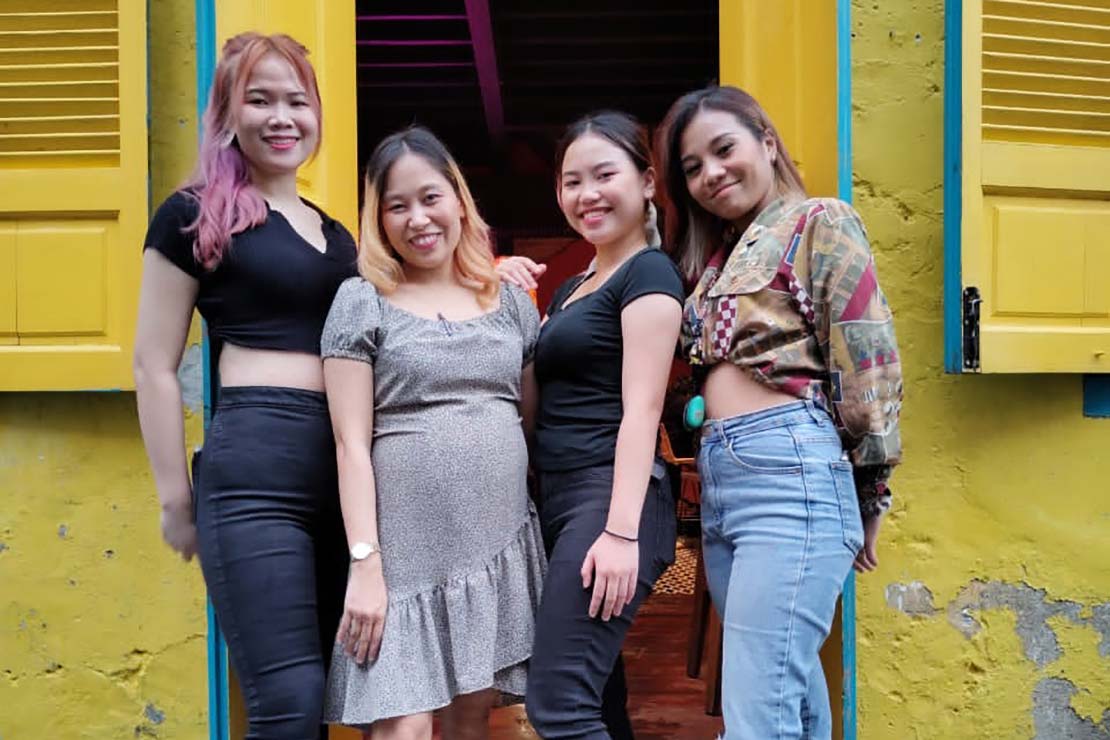 The women forces at Concubine KL [Photo: Concubine KL]
In this regard, Chinatown's current darling outlet, Concubine KL, is proud of the fact that this bar is pretty much almost completely run by women! "We've always believed that genre shouldn't make a difference when it comes to assigning responsibilities and retributing the team. Appreciation is shown on daily basis," states owner Nicolas Fraile.
"But this month, in conjunction with IWDCW we want to show appreciation by publicly recognising their value and naming our own gin cocktail Michelle, My Belle, in their honour. Best of all, it's a cocktail that's been crafted by our very own Michelle behind the bar at Concubine KL!"
Equal Pay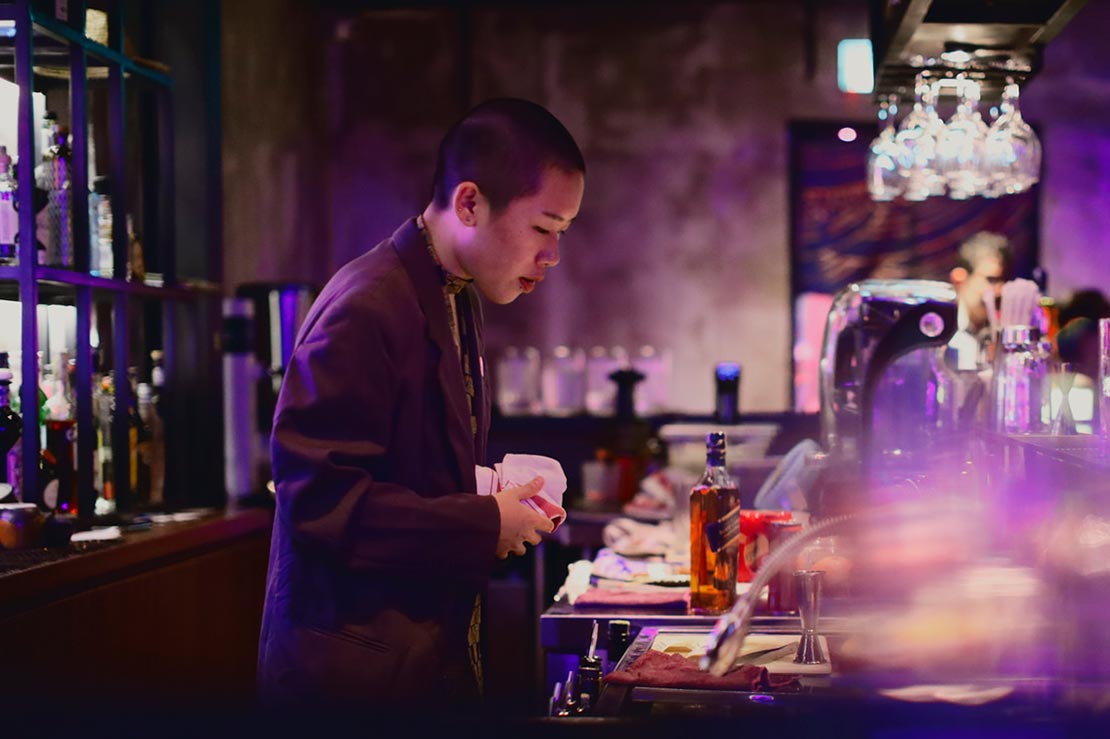 Yap Siew Mun, bartender at Kapitan Haus [Photo: Cliff Choong]
In the same vicinity along Jalan Petaling is Kapitan Haus. Here, co-founder Alex Yeo is proud to point out that his outlet provides equal pay opportunities that are merit-based and do not discriminate by gender. "Female staff are also entitled for period days off that can be redeemed without any documentation," he continues. "We also provide maternity leave for new mothers. Sanitary pads are also provided for our female staffs and customers at our restrooms."
"Our star bartender is in fact a woman, too! Yap Siew Mun has definitely mastered not only the drinks on the menu and the outlet's operations, but also all the general knowledge associated with the cocktail world as well. Appearance wise, she is most known for her trademark buzzcut but there is definitely more to her than just a cool hairstyle. Behind the bar, she is unmatched in her focus and attention to detail!"
Flexible Hours and Maternity Leave
Kit Chan of Chow Kit's Licky Chan & The Poke Guy is also very enthusiastic about hiring women to spearhead the unique alcohol-infused ice cream parlour cum tattoo studio. "The majority of our staff are female, but most of them are part timers. But regardless, we have flexible hours with a minimum commitment per week. We also offer equal pay and opportunities. Best of all, we offer 60 days of maternity leave to our ladies since we started and this has been made the minimum starting this year."
But it's not just female staff that need a helping hand when it comes to the bar business. Women patrons of such establishments could also use some added reassurances in these challenging times. In this regard, Reka Bar's Giovanni Magliaro has this to say about things: "We try to ensure that Reka is a professional and safe environment for every female, whether staff or guest."
Zero-tolerance towards harassment
That's why he reveals that Reka practices a zero-tolerance policy toward any form of harassment or discrimination, and staff members are trained to take notice and intervene should any female be in distress at the outlet. "We try very hard to create a familial environment where every customer and team member can feel safe and supported. The female members of the team also go the extra mile to ensure female guests are taken care of with small touches such as sanitary pads in the female restrooms and regular check ins with single female guests."
Outlet designed with women's needs in mind
Meanwhile, Shirmy Chan, who is one of the two women co-founders of Bar Terumi, believes that if a bar is spearheaded by women, it definitely attains a more homely ambiance – which is not a bad thing!
"Perhaps the effort we appreciate the most is the excellent setting and cleanliness of the restrooms," she points out. "We also provide personal hygiene amenities like deodorant, hair bands and the like for our female guests. We also encourage both our female and male customers to give us regular feedback about our service and amenities so that we can improve and they would stay longer for even more drinks with us!"
"Ours is a space where female customers can feel secure. Our bar tagline is #sipgently so this notion has always been at the forefront of our bartenders' way of hosting customers. We make sure they drink responsibly and sober up before making their way home," reveals Chan further.
Chan also believes women approach leadership differently, bringing a unique touch into the working and hospitality culture. "Women are usually more compassionate, caring and mindful, and we believe in creating a harmonious working space for each other. I hope it would inspire more women to join the Terumi family!"
Women support women
And perhaps rounding things off nicely are the words by Alicia Fonseka of Damansara Height's Beef and Coffey (BAC). She believes that being a woman in a male-dominated industry has pushed her to do more for her female team members and patrons. "Having previously come from one of the best dive bars in downtown KL, Pisco Bar, I've been dealt many different hands in the past," she goes on to say.
"I'm no sexist but I have always stood together with all my female team members, especially on the matter of sexual harassment. When it come to this, women ALWAYS have the right to say NO; to drinks, to unusual "proposals", to pretty much anything indecent, really. And if any of my guests or staff members are unable to handle the situation, I am always there to assist."
But ultimately, Alicia feels that the most important thing is for outlet managers or owners to take full control in such situations. "Previously, I've told indecent customers to leave, likewise letting go of a member of my own team for behaving indecently with a guest or co-worker. Fortunately, I am happy to report that after so many years in the industry, I've yet to come across any gender discrimination among my own team members; I hope I never do!"
- T -