Bruichladdich (pronounced 'broogh-laddi') translates to "hill" (brucch) "by the sea" (laddie). The distillery is on the Isle of Islay (pronounced 'ai-la'). The original distillery closed in 1994 and was reopened by wine merchants in 2001, bringing a new philosophy to the production of whisky. Their passion and goal is to focus on the terroir, produce and locally-sourced ingredients, showcasing the beauty and characteristics of Islay ingredients.
Keeping true to the naturalistic and purist side of things, all bottles come with a code on the back, which you can enter on their website revealing the origins and ingredients that have gone into your bottle. Their whisky is made with locally grown barley and spring water surrounded by gneiss rocks, the 2nd oldest type of rock formation in the world, giving it its natural, distinctive properties.
Bruichladdich Whisky is unpeated whereas Octomore is the world's most heavily peated whisky. The uniqueness of Octomore whisky is that each batch differs slightly, slightly like wine and their vintages. Each batch (represented by the first number, the latest batch being 14) followed by the decimal .1-.4 indicate the aging method, therefore giving you an idea of what to expect, flavour-wise.
The Impossible Equation
Octomore whisky is known for their groundbreaking and unconventional approach to whisky-making introduced by Bruichladdich into the family in 2008. This family of single malts is super heavily peated and bottled close to cask strength, defying conventions and earning the nickname 'The Impossible Equation.'
To explore the concept of terroir, Bruichladdich considered using locally grown Islay barley but encountered a challenge: no barley had been cultivated on the island since before the war. Consequently, they approached a local farmer, Raymond Stewart, to grow it with them for distilling. "And he said no, because the financial risk was huge," explained Abigal Clephane, Bruichladdich's Global Brand Ambassador. Today, the latest Islay Barley vintage is distilled from barley grown on eight local farms, all within an 11-mile radius of Bruichladdich Distillery.
The latest Octomore series, the 14th annual release, embodies their pioneering spirit by exploring the influence of terroir, cask management, and varying peat levels on the final flavour. This unique experiment results in single malts with their own distinct and remarkable characters.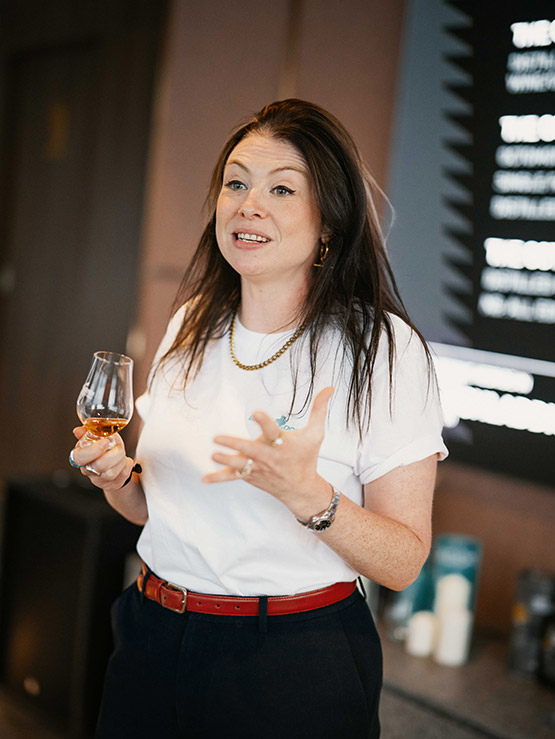 Bruichladdich Global Brand Ambassador Abigail Clephane
Octomore 14.1 (59.6% ABV / 128.9 PPM)
The base of this exploration, is youthful and dynamic, distilled from 100% Scottish mainland barley and peated to 128.9 PPM. Matured for five years in first fill ex-American whiskey casks, it offers a harmonious balance between smoke, malt, cask, and maturation. The sensory experience includes notes of smoked vanilla, sweet caramel, bright citrus, roasted coffee, and subtle spice.
Official tasting notes: Matured for five years in first fill ex American whiskey casks, the 14.1 shows the power and potential of its essential raw ingredients. Smoked vanilla and sweet caramel open on the nose, with bright citrus cutting through Octomore's signature smoke - elevated with roasted coffee and subtle spice.
Octomore 14.2 (57.7% ABV / 128.9 PPM)
takes a different path, utilizing the same barley as 14.1 but with a significant influence from wine and sherry casks. This results in a complex single malt with sweetness, nuttiness, and red fruit notes. Octomore's signature peak smoke is enhanced by the oak influence, creating a robust, savory flavor with remarkable depth and complexity.
Official tasting notes: Octomore's signature peak smoke notoriously pairs well with Oloroso sherry casks, with the influence of the wood adding a robust, savoury flavour to the final spirit. The oak from the Amarone casks also has a significant impact on the spirit, imparting rich, red fruit notes - giving structure and cohesion to the 14.2.
Octomore 14.3 (61.4% ABV / 214.2 PPM)
Showcases the impact of local Islay barley on flavour. This single malt celebrates the profound connection between the distillery and the island's farming community. With a blend of first fill ex-American whiskey casks and second fill wine casks, it captures the essence of Islay barley with aromas of sweet mash, malted barley, earthy peat smoke, butterscotch, honeycomb, and vanilla.
Official tasting notes: Aromas of hot, sweet mash are unmistakable on the nose, with the soft, biscuit notes of the malted barley complementing the earthy peat smoke. While smouldering peat lingers, creamy porridge and cereal notes of the Islay barley are balanced with butterscotch, honeycomb and a hint of vanilla.
The difference between 13 and 14 is the casks used to age. The casks are selected from different vineyards and producers yielding a unique batch each year.
The Octomores 14.4 (travel retail version) will be released in February 2024 and will be available exclusively on Bruichladdich's website.
The Octomore numbering system
The Octomore .1s
Distilled from 100% Scottish mainland barley and matured predominantly in American Bourbon or whiskey casks
The Octomore .2s
Distilled from 100% Scottish mainland barley with a focus on European cask influence - wine/cognac/other (exclusive to Global Travel Retail)
The Octomore .3s
Octomore farm, single estate releases single farm, single field, single vintage - "Octomore of Octomore". Distilled from 100% Islay grown barley, and matured in a combination of American and European Oak
The Octomore .4s
Distilled from 100% Scottish mainland barley with a focus on virgin oak.
NB: All editions are limited and bottled at natural strength with just a drop of Islay spring water
Tours to Bruichladdich Distillery are available but the best times to visit would be during Spring/Autumn. The distillery closes in summer (June/July), referred to as "quiet season" as they do run out of water, especially if they don't get any rain for two weeks. This is happens all over Islay and all the producers take this time to reset and have a short break.
- T -