On 6 May 2021, 7pm Malaysia time, Asia's 50 Best Bars were announced via Facebook live. Winners include bars from 10 countries: China (13), India (1), Indonesia (1), Japan (6), Malaysia (3), Philippines (1), Singapore (12), South Korea (4) and Thailand (5).
Reporting from Malaysia, congratulations to Bar Trigona (12), JungleBird (37), Three x Co (47), Coley (58) and Pahit (78).
Coa, crowned The Best Bar in Asia and China, jumping up 2 spots from last year replacing Jigger & Pony that takes the second spot on the list for Asia and The Best Bar in Singapore.
Retaining their titles as "The Best Bar" of their respective countries are:
No. 3 The SG Club (Tokyo) - Japan
No. 4 Indulge Experimental Bistro (Taipei) - Taiwan
No. 11 Bamboo Bar (Bangkok) – Thailand
No. 12 Bar Trigona (Kuala Lumpur) - Malaysia
No. 13 Charles H (Seoul) – South Korea
No. 16 Side Car (New Delhi) – India
No. 33 Union Brasserie, Bakery & Bar (Jakarta) – Indonesia
No. 38 The Curator (Manila) – The Philippines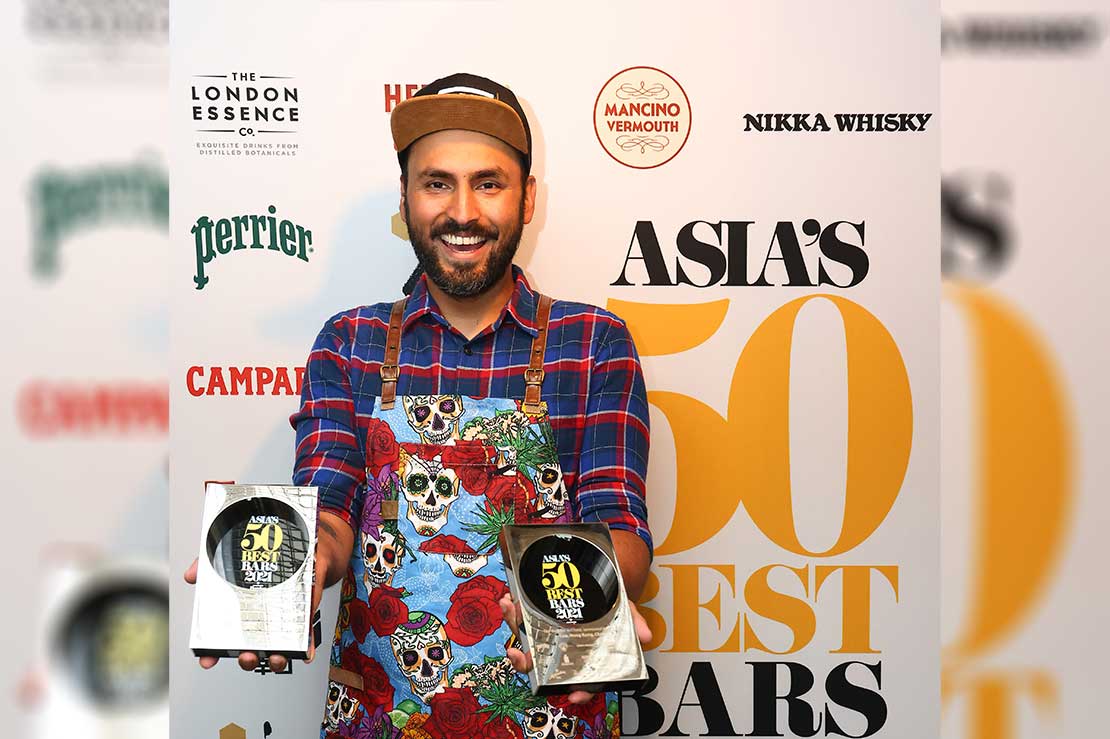 Jay Khan, founder of COA Hong Kong - Best Bar in Asia 2021
Individual awards for bars
Campari One To Watch – Epic (Shanghai)
Heering Legend Of The List – Quinary (Hong Kong)
London Essence Best New Opening – The Diplomat (Hong Kong)
The Ketel One Sustainable Bar Award – Penicillin (Hong Kong)
Michter's Art of Hospitality – MO Bar (Singapore)
Disaronno Highest New Entry – No Sleep Club (Singapore)
Nikka Joint Highest Climbers – Caprice Bar (Hong Kong) and Sidecar (New Delhi)
Bannie Kang, founder of MU Bar (Taipei, No. 90) is selected as the Mancino Bartenders' Bartender. From press release:
Undoubtedly one of the most respected bartenders in Asia, Kang's impeccable technique, work throughout the pandemic and desire to make a positive impact on the bar community mark her as a preeminent bartender in the continent. She persistently seeks out fresh information, ingredients and styles, which influence her Western and Southeast Asian cocktails at Mu.
Shingo Gokan is named the Roku Industry Icon. From the press release:
For this award, the voting academy is asked to give the name of one person who has done more for the progress of the bar industry than any other individual. Mixing the bartending styles of his native Japan and New York City, Gokan has made a name for himself in bars and cocktail competitions around the world. A fearless bar leader, Gokan has helmed many notable bars and owns a handful of award-winning establishments, namely The Odd Couple, Speak Low and Sober Company in Shanghai, China, and The SG Club in Tokyo, Japan.
New entries this year
No.8 No Sleep Club, Singapore
No. 20 The Diplomat, Hong Kong, China
No.23 Tell Camellia, Hong Kong, China
No.29 Barbary Coast, Singapore
No.30 Penicillin, Hong Kong, China
No.40 DarkSide, Hong Kong, China
No.47 Three X Co, Kuala Lumpur, Malaysia
No.49 Sago House, Singapore
Re-entry
No.31 Union Trading Company, Shanghai, China
No.48 Teens Of Thailand, Bangkok, Thailand
No.50 Star Bar, Tokyo, Japan
According to the press release, the Asia's 50 Best Bars Academy is formed by up to 220 drinks experts including bartenders, drinks writers and cocktail aficionados in Asia.
Each voters casts 5 votes based on their best bar experiences of the previous months, of which at least one must be for a bar located outside the voter's country of residence. The number of votes in 2021 and international voting requirement has been reduced to reflect fewer travel opportunities throughout much of 2020.
We don't have the number or ratio of voters from the region as the panel of voters has been kept confidential.
Access full list here.
Congratulations to all winners.
- T -